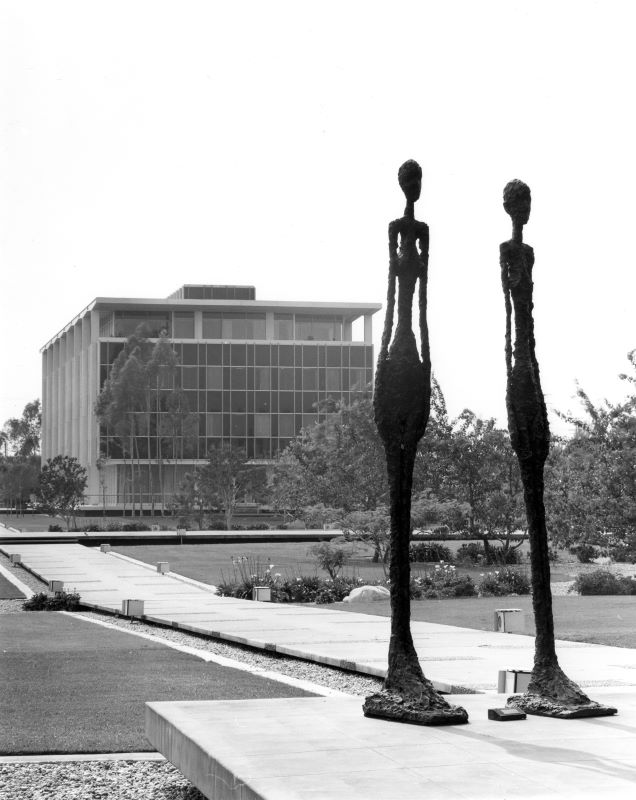 The Norton Simon Art Foundation (NSAF) was established in 1954 as The Hunt Foods Charitable Foundation. In 1959, The Ohio Match Charitable Foundation and the United Can & Glass Company Charitable Foundation merged into The Hunt Foods Charitable Foundation, which then changed its name to the Hunt Foods & Industries Foundation. Reflecting the Foundation's interest in purchasing and lending artworks as a "museum without walls," the name was changed in 1966 to the Hunt Foods & Industries Museum of Art. Coinciding with the merger of Hunt Foods with McCall and Canada Dry Corporations to become Norton Simon Inc., in 1968 it became the Norton Simon, Inc. Museum of Art. The name changed twice more: in 1975 it operated as the Norton Simon, Inc. Foundation, and when the corporation was sold in 1983, the name was finally changed to the Norton Simon Art Foundation. NSAF's first purchases, in July 1965, were two large bronze figures by Alberto Giacometti, one of which is on view in the modern art wing of the Norton Simon Museum.

During the 1950s and 1960s, the Simon companies were headquartered in Fullerton, California, and NSAF supported several cultural activities in the city. In 1958 it donated money to build the West Fullerton Hunt Branch Library. The library was completed in 1962, and soon after NSAF began donating art books and exhibiting art from its collection there. In 1966, NSAF was actively negotiating to build an art museum in Fullerton, but the project was never realized.
By 1973, NSAF had lent artworks from its collection to many museums throughout the United States, including the California Palace of the Legion of Honor, San Francisco; the National Gallery of Art, Washington, D.C.; the Metropolitan Museum of Art, New York; Princeton University Art Museum; the Museum of Fine Arts, Houston; the Detroit Institute of Arts; the Los Angeles County Museum of Art; the Virginia Museum of Fine Arts, Richmond; and Pasadena Art Museum.
In 1974, Norton Simon and a reorganized Board of Trustees assumed management of the Pasadena Art Museum, taking up administration of its building and oversight of its important collection of 20th-century European and American art. As NSAF's commitments of loans ended at other institutions, the art collection was shipped to Pasadena to the Museum (which in 1975 was renamed the Norton Simon Museum), where it remains on long-term loan. NSAF's last purchase of art during Simon's lifetime was a painting by Gustave Courbet in 1989.
Today, the Norton Simon Art Foundation is an exempt private operating foundation that focuses on the care, study and public exhibition of its art collection, develops educational and art-related events at the Museum and publishes scholarly collection catalogues.